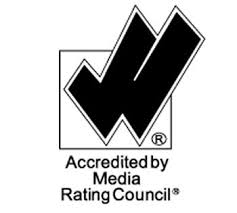 Ad Impression processing and reporting by RealVu®, a system operated
and maintained by RealVu, Inc is accredited by the Media Rating Council
(MRC) since April 13, 2010.
What Accreditation Means
To merit MRC accreditation, the system:
1. Adheres to the MRC's Minimum Standards for Media Rating Research and the IAB's Ad
Impression Counting and Auditing Guidelines;
2. Provides full and complete information to the MRC regarding all details of its operation;
3. Conducts its processing and reporting substantially in accordance with representations to
its clients and the MRC; and
4. Submits to, and pays the cost of, thorough annual audits of its procedures by CPA firms
engaged by the MRC.
In addition to sizable annual audit charges, Rich Media Worldwide provides office and file space
for MRC auditors, as well as considerable staff and computer time involved in various aspects of
these inspections.
For further information about MRC's accreditation and auditing procedures, contact:
Executive Director
Media Rating Council, Inc.
420 Lexington Avenue, Suite 343
New York, NY 10170
www.mediaratingcouncil.org
(212) 972-0300
History and Mission of the MRC
In the early 1960's a U.S. Congressional Committee held hearings on the purpose and accuracy of audience research and considered regulation related to the TV and Radio industries.  These public hearings are commonly referred to as the "Harris Committee Hearings on Broadcast Ratings."  After investigation and extensive testimony the Committee determined that Industry self-regulation, including independent audits of rating services was preferable to government intervention.  The Harris Committee hearings resulted in the formation of an Industry-funded organization to review and accredit audience rating services called the Broadcast Rating Council (now referred to as the MRC).
Aligned with the actions deemed necessary by the House Committee, the activities of the MRC include:
The establishment and administration of Minimum Standards for rating operations;
The accreditation of rating services on the basis of information submitted by such services; and
Auditing, through independent CPA firms, of the activities of the rating services.
The Council seeks to improve the quality of audience measurement by rating services and to provide a better understanding of the applications (and limitations) of rating information.  The Bylaws of the MRC document the organization's mission as: "to secure for the media industry and related users audience measurement services that are valid, reliable and effective; to evolve and determine minimum disclosure and ethical criteria for media audience measurement services; and to provide and administer an audit system designed to inform users as to whether such audience measurements are conducted in conformance with the criteria and procedures developed."  This mission was established with the support of the House Committee.
The Mission of the MRC is to
●Secure for the media industry and related users audience measurement that is valid, reliable, and effective
The MRC accomplishes its objective by
● Setting Standards
and
● Conducting audits performed by an independent CPA firm to verify compliance with our Standards